Te tengo, luz de la luna, eres mi luz de las estrellas
Te necesito toda la noche, vamos, baila conmigo
Estoy levitando
"Levitating" es una canción electro-disco y nu-disco con varios tropos disco, producida por Koz y Stuart Price, cantada y escrita por la inglesa Dua Lipa del segundo álbum de estudio, Future Nostalgia (2020). Clarence Coffee Jr., Sarah Hudson y Stephen Kozmeniuk también aparecen en la letra de la letra. "Levitating" también incorpora elementos de dance-pop, pop-funk, power pop y space rock; Los expertos dicen que hay una mezcla de estilos pop y R&B de los años 70, 80 y 90.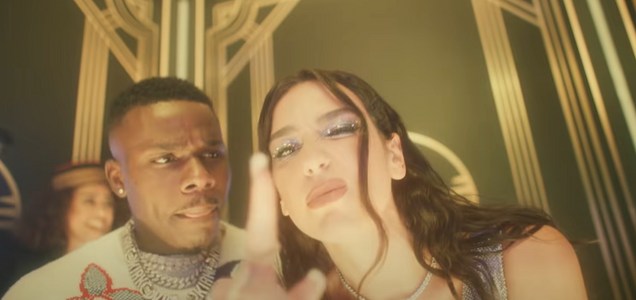 Después de regresar al # 1 en la lista de radio para adultos de moda contemporánea de Mediabase de la semana pasada, "Levitating (featuring DaBaby)" de Dua Lipa mantiene el primer lugar en la lista de esta semana. Reproducido ~ 5.977 veces durante el período de seguimiento del 4 al 10 de julio, el duradero éxito de Dua Lipa disfruta de una segunda semana consecutiva, y la cuarta en general, como la canción número 1 de Hot AC.
"Levitating" es el quinto sencillo del álbum, una edición extra de Future Nostalgia como versión remix lanzada el 1 de octubre de 2020, en la que participa el rapero estadounidense DaBaby.
El 13 de agosto de 2020, el remix de "Levitating" fue lanzado para descarga digital como una pista por EDM, sencillo principal del álbum de remixes de Lipa, Missy Elliott y el DJ estadounidense The Blessed Madonna Club Future Nostalgia.
Cada remix fue promocionado con el lanzamiento de un video musical para sus respectivos remixes, uno dirigido por Will Hooper para el remix de The Blessed Madonna filmado en Londres y Atlanta. El video musical del remix de DaBaby fue dirigido por Warren Fu en asociación con la plataforma de redes sociales TikTok.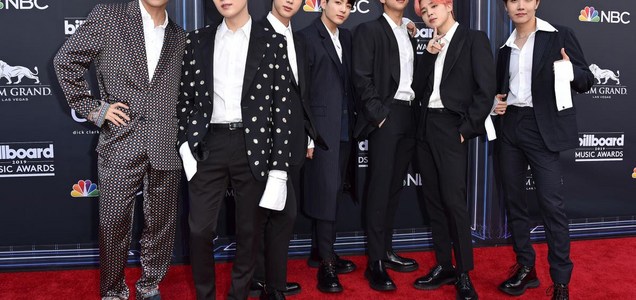 A pesar de que "Levitating" de Dua Lipa y DaBaby ya ha vivido en el Hot 100 durante 36 semanas, está funcionando casi mejor que nunca en estos días, y ha resultado ser el lanzamiento más sólido del segundo álbum de la cantante pop Future Nostalgia. El corte compitió recientemente por el peldaño No. 1 en la lista, perdiendo una decisión por un espacio. Sin embargo, todavía se siente cómodo en el número 3 y no está a punto de irse muy lejos en el corto plazo.
En el Reino Unido, "Levitating" en la lista de sencillos, alcanzó el puesto número cinco y es el séptimo en el top cinco de sencillos, recibió una certificación de platino en el Reino Unido por la British Phonographic Industry (BPI).
En el Billboard Hot 100 de EE. UU., Ocupa el segundo lugar en los EE. UU., El número dos en la lista Billboard Global 200. Lipa promovió "Levitating" en vivo en The Graham Norton Show, en los American Music Awards 2020 y en Saturday Night Live.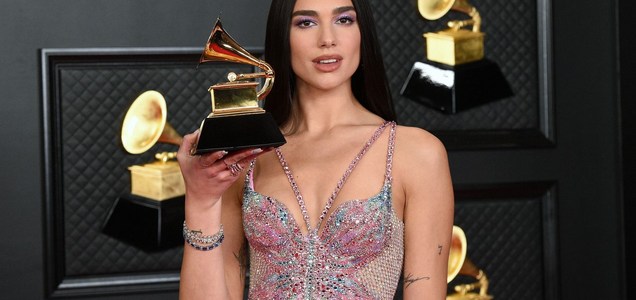 Dua Lipa puede tener varios premios Grammy en su haber, pero lo que realmente quiere hacer es actuar. El popstrel "Don't Start Now" se ha unido oficialmente al elenco del exitoso thriller de Matthew Vaughn (Kingsman) Argylle, basado en una novela de espías de Ellie Conway que aún no ha sido publicada.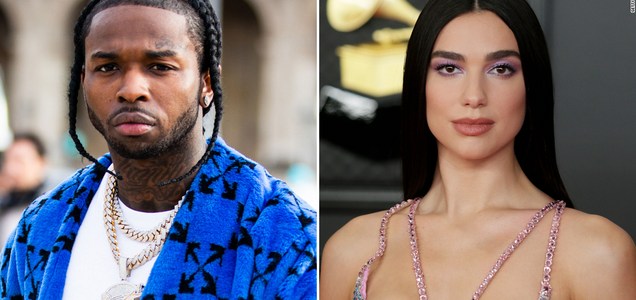 La estrella británica se probó de la canción la semana pasada en su cuenta de Instagram verificada usando el video de Pop Smoke bailando su vieja canción en un auto.
La nueva canción aparece en el segundo álbum póstumo de Pop Smoke, "Faith", que también incluye colaboraciones con Kanye West, Pharrell, Quavo, 21 Savage, Chris Brown y Kid Cudi.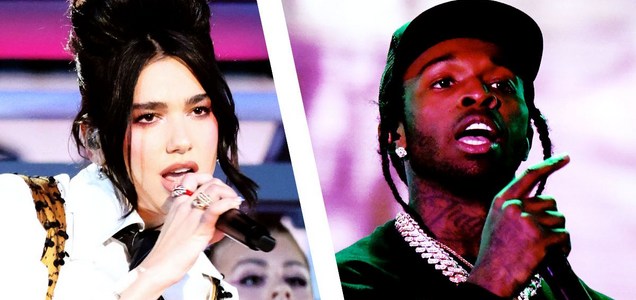 La era del remix moderno ha hecho algunos emparejamientos extraños, pero ten fe, Pop Smoke y Dua Lipa hicieron lo que había que hacer. En "Demeanor", el rey del grime de Brooklyn se siente como en casa con la reina del pop británico Dua Lipa, rapeando con bajos maravillosos en el nuevo álbum del difunto rapero.
Levitating – Dua Lipa Featuring DaBaby
[Intro: DaBaby]
Billboard Baby, Dua Lipa make 'em dance when it come on
Everybody lookin' for a dancefloor to run on
[Verse 1: Dua Lipa]
If you wanna run away with me, I know a galaxy
And I can take you for a ride
I had a premonition that we fell into a rhythm
Where the music don't stop for life
Glitter in the sky, glitter in my eyes
Shining just the way I like
If you're feeling like you need a little bit of company
You met me at the perfect time
[Pre-Chorus: Dua Lipa]
You want me, I want you, baby
My sugarboo, I'm levitating
The Milky Way, we're renegading
Yeah, yeah, yeah, yeah, yeah
[Chorus: Dua Lipa]
I got you, moonlight, you're my starlight
I need you all night, come on, dance with me
I'm levitating
You, moonlight, you're my starlight (You're the moonlight)
I need you all night, come on, dance with me
I'm levitating
[Verse 2: DaBaby]
I'm one of the greatest, ain't no debatin' on it (Let's go)
I'm still levitated, I'm heavily medicated
Ironic I gave 'em love and they end up hatin' on me (Go)
She told me she love me and she been waitin'
Been fightin' hard for your love and I'm runnin' thin on my patience
Needed someone to hug, even took it back to the basics
You see what you got me out here doin'? (Yeah)
Mighta threw me off, but can't nobody stop the movement
Uh-uh, let's go
Left foot, right foot, levitatin' (C'mon)
Pop stars (Go), Dua Lipa with DaBaby
I had to lace my shoes for all the blessings I was chasin' (Go)
If I ever slip, I'll fall into a better situation
So catch up, go put some cheese on it
Get out and get your bread up (Yeah, yeah)
They always leave when you fall, but you run together (Hey)
Weight of the world on my shoulders, I kept my head up
Now, baby, stand up, 'cause, girl, you
[Pre-Chorus: Dua Lipa & DaBaby]
You want me (Hey), I want you, baby (Hey)
My sugarboo, I'm levitating
The Milky Way, we're renegading
Yeah, yeah, yeah, yeah, yeah
[Chorus: Dua Lipa]
I got you, moonlight, you're my starlight
I need you all night, come on, dance with me
I'm levitating
You, moonlight, you're my starlight (You're the moonlight)
I need you all night, come on, dance with me
I'm levitating
[Post-Chorus: Dua Lipa]
You can fly away with me tonight
You can fly away with me tonight
Baby, let me take you for a ride
Yeah, yeah, yeah, yeah, yeah
I'm levitating (Woo)
You can fly away with me tonight
You can fly away with me tonight
Baby, let me take you for a ride
Yeah, yeah, yeah, yeah, yeah (Woo)
[Bridge: Dua Lipa]
My love is like a rocket, watch it blast off
And I'm feeling so electric, dance my ass off
And even if I wanted to, I can't stop
Yeah, yeah, yeah, yeah, yeah
My love is like a rocket, watch it blast off
And I'm feeling so electric, dance my ass off
And even if I wanted to, I can't stop
Yeah, yeah, yeah, yeah, yeah
[Pre-Chorus: Dua Lipa]
You want me, I want you, baby
My sugarboo, I'm levitating
The Milky Way, we're renegading
[Chorus: Dua Lipa & DaBaby]
I got you (Yeah), moonlight, you're my starlight
I need you all night (All night), come on, dance with me (Let's go)
I'm levitating (Woo)
[Post-Chorus: Dua Lipa]
You can fly away with me tonight (Tonight)
You can fly away with me tonight
Baby, let me take you for a ride
Yeah, yeah, yeah, yeah, yeah (Take you for a ride)
I'm levitating (Woo)
You can fly away with me tonight (Tonight)
You can fly away with me tonight
Baby, let me take you for a ride
Yeah, yeah, yeah, yeah, yeah (Let me take you for a ride)
[Chorus: Dua Lipa]
I got you, moonlight, you're my starlight
I need you all night, come on, dance with me
I'm levitating